New York City Department Store Visual Trends
---
The latest visual trends of New York City fashion window displays from July 2015.
MACY'S Macys has collaborated with artist Nina Chanel Abney in an installation entitled 'The Earth' Mannequins stand poised on actual dirt representing the earth in an environmentally conscious partnership of art and fashion. Abney is known for painting vibrant multicultural murals with disjointed narratives that confuse and delight. Her two dimensional canvases pack gossip, race, sex, politics, jokes and undecipherable symbols capturing the tension, beauty and absurdity of the Internet age. Her mural illustrates storytelling in an age in which a coherent narrative is obsolete.
SAKS FIFTH AVENUE Saks Fifth Ave is featuring the Spring/Summer 2016 Menswear collection of Rag and bone. Creative Directors David Neville and Marcus Wainwright have drawn inspiration from the urban sport of Parkour. Taking its origins from the French military training program, Parkour incorporates an intense kinetic assembly of running, jumping, climbing, and flipping, against walls and obstacles in urban settings which teams perfectly with the British tailoring and urban flare of Rag and Bones newest collection.

"Images credit : saksfifthavenue.com"
VALENTINO Melbourne-based artist Esther Stewart's signature hard-edged abstract paintings have made it onto the Paris catwalk thanks to Valentino Creative Directors Maria Grazia Chiuri and Pierpaolo Piccioli. According to Valentino, Chiuri and Piccioli were inspired by "moments of non-conformist artistic movements" for their Fall/Winter 2015-2016 menswear collection. The two creative directors translated Stewart's work from the surface, incorporating elements of her geometric paintings into the structure and construction of the clothes. "The modernist urgency and the radicalism of the color field in the Sixties were, through Futurism and Cubism, an ideal consequence that is showcased in today's geometric motifs of Australian artist Esther Stewart. Her compositions trigger a sequence of micro and macro geometric patterns transformed into patchwork, prints and intarsia: in double cashmere for Couture coats and through the textures of Shetland wool sweaters."

DOLCE AND GABBANA The latest Pre-Fall collection is inspired by the intricate ceramic tiles of the Italian Renaissance known as the Maiolica. They are generally decorated in bright colours on a white background, frequently depicting historical and legendary scenes known as istoriato wares "painted with stories" The blue and white paint the bags, shoes, dresses of this collection with a strong Italian spirit that evokes the Mediterranean elegance typical of Dolce & Gabbana.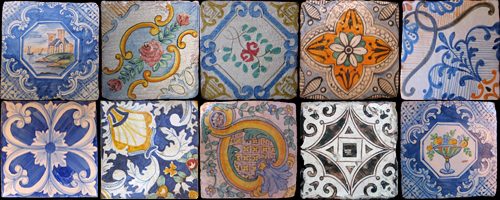 PRADA After showing menswear and Pre-Fall womenswear in one runway show back in January, Miuccia Prada is artfully merging both collections into a visual statement on gender. Concerning itself largely with the male-female dynamic. Shot by longtime Prada collaborator Steven Meisel, the portraits in the windows are meant to "play with the asymmetries and ambiguities men and women share with each other" Each image is deliberately ambiguous, with viewers left to wonder whether these well-dressed beauties are rivals—or couples. The lack of explicitness opens the door for viewers to examine their assumptions.

LOUIS VUITTON Series 3 (following Series 1 and Series 2) is the third opus bringing together the photographic perspectives of Juergen Teller and Bruce Weber for the Fall 2015 collection. Once again, the Maison Louis Vuitton focuses closely on the diverse range of women that Nicolas Ghesquière has chosen to depict Louis Vuitton's ideal. Actresses, established models, and new faces who represent different ages and nationalities, and all inspire him. Upon the release of this new campaign, Louis Vuitton is proud to announce that Swedish actress Alicia Vikander is the new muse of the Maison. She joins the Maison's two other heroines, Jennifer Connelly and Michelle Williams.

HERMES Brooklyn based artist Edward Granger teams up with Hermes for a summer window design at the Hermès Madison Avenue boutiques in New York City. Collaboration between Hermès and Edward Granger is part of an on-going Vitrine D'Artiste (artist window) program. Playing off the Hermès annual theme, Flâneur Forever, a French concept of a city observer, experiencing the architecture and layout of the places one walks through, Granger's work looks to transcend the viewer through imagery of electric colors and geometric shapes, into a world of an urban explorer of the New York City landscape. Granger creates a rhythm through the spectrum of colors, breaking it up to give the illusion of vibrations, or an animated motion. The geometric shapes placed throughout the windows illustrate a dichotomy of the topography of New York City, the heights of iconic buildings compared to the low grid systems of the streets. He is a dedicated craftsman, who seeks to elevate and transform the materials presented in each window in ways that highlight their beauty, capturing the essence of the artisanal artistry, craftsmanship and life of Hermès objects.

GUCCI Gucci unveiled its newest window designs under creative director Alessandro Michele for his first season for Fall 2015, and true to everything he has shown the industry so far, itÂ's a departure from GucciÂ's old look. The windows feature turquoise and purple LEDs for a 3D element. The floors feature a diamond pattern on an iron sheet and ready-to-wear clothing hangs from an industrial rotating rail resembling the assembly line in a dry cleaners. In another window, a giant bumble bee carries GucciÂ's Dionysus bag in its grasp as it hovers over a bed of flowers. The Dionysus collection gains its name from the Greek god, who according to legend transformed himself into a tiger to carry a nymph across the river Tigris. The striking double tiger-head closure is the bag's defining feature, making a fierce design statement.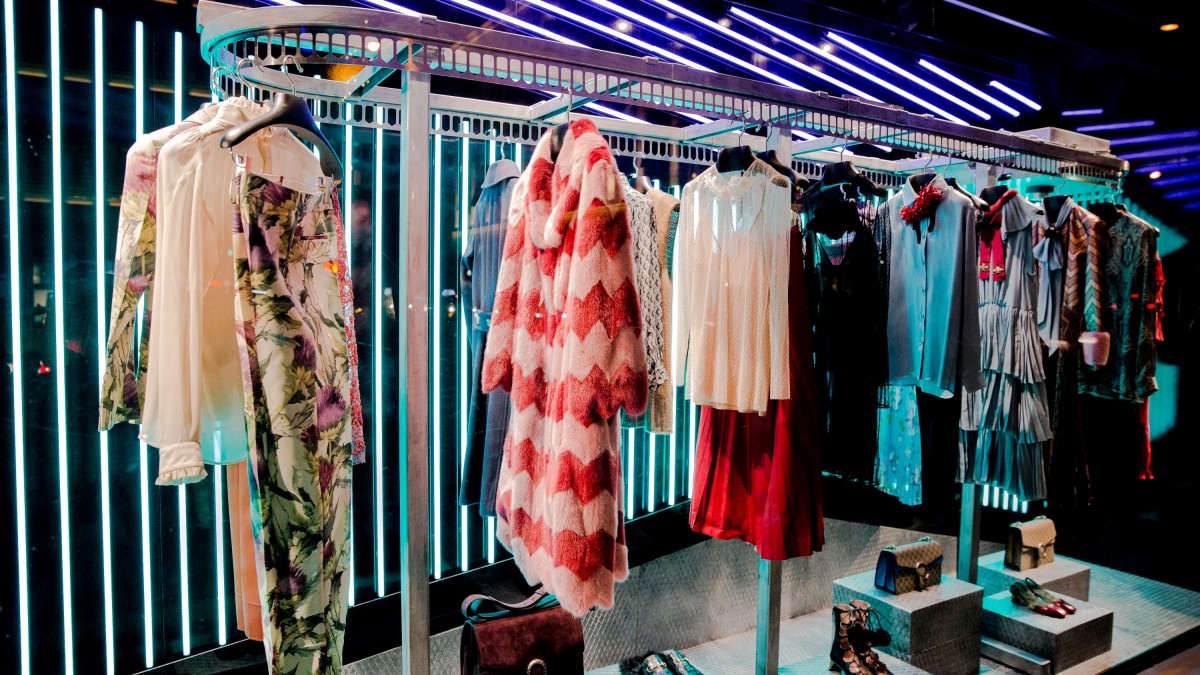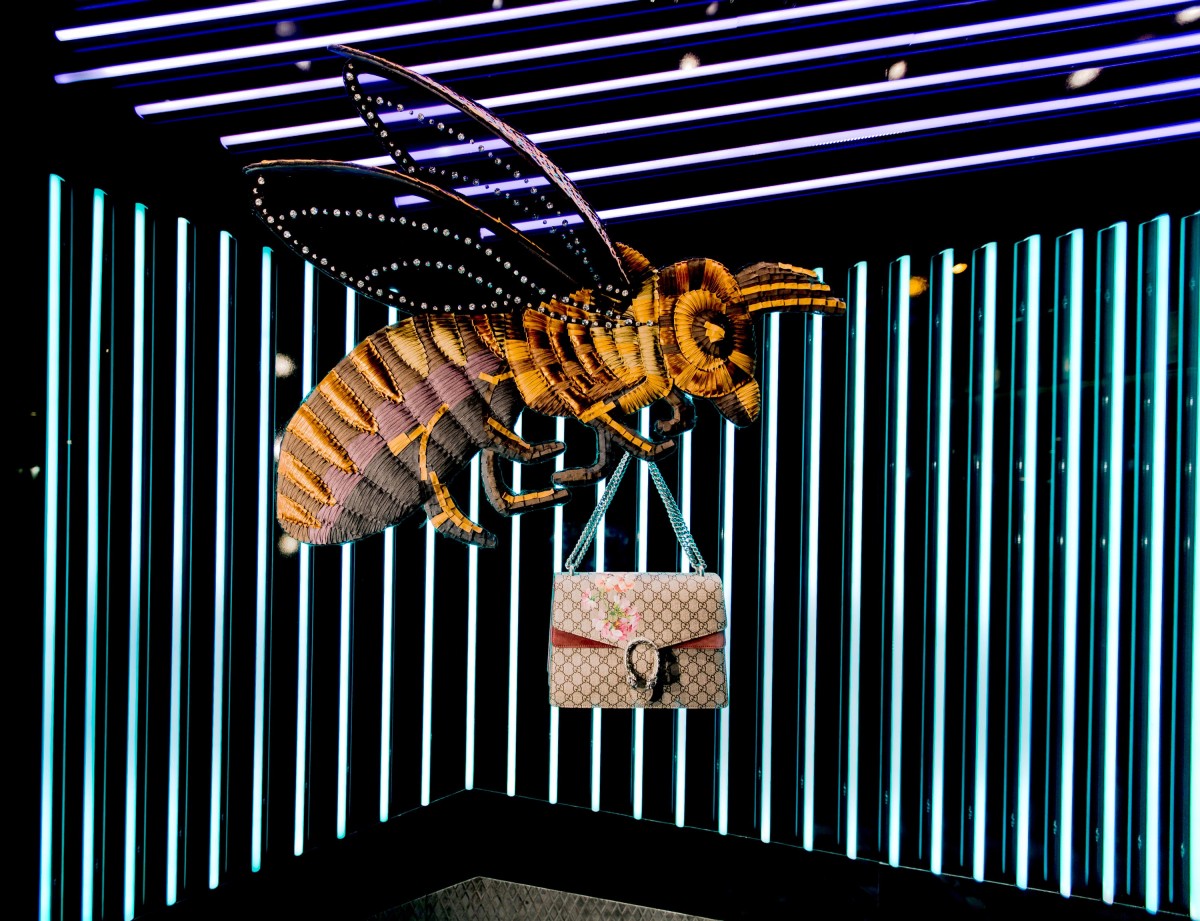 DIOR In the Esprit Dior Tokyo 2015 Collection, Raf Simons, Artistic Director of Christian Dior, has the West meet the East and takes inspiration from the extreme confluence and contrast of competing styles found in the capital of Japan. "Tokyo is a place that has been and is so constantly inspiring to me," says Raf Simons. "Particularly in terms of the liberty people take for themselves in how they dress, there is nowhere else like it; the freedom of styles, the new architecture of clothing that you can see forming in the street as well as in city's fashion design history… It's a place that is both extreme and exhilarating." A new kind of 'Floating World' is evoked in the collection; a place of leisure and pleasure mixed with the practical and the everyday, forming a new type of 'utilitarian glamour' for Dior. Here, an extreme contrast of styles is embraced and formed into single and singular silhouettes where fantasy and reality coexist. The contrast of matte and shine, evening and day, a subdued and masculine colour palette placed alongside bold primaries, the practical and rough hewn mixed with the hyper-luxurious and refined, all are defining features of the collection.

FENDI The Fall/Winter 2015-16 advertising campaign called "Arty Puppets" pays homage to the work of German painter and textile designer Sophie Taeuber-Arp. The architectural silhouettes were built on contrast and explore the idea of geometry and volume. Taeuber-Arp's sophisticated compositions explore the innate expressive power of color, line and form which translate into a series of all-over printed coats, patchwork-inspired leather overcoats, oversized duvet dresses and playful skirts that highlight the artist's innate talent and bold originality.


BARNEYS NY With the simple construction of a turntable paired with a funhouse mirror, the Barneys visual team has created a kaleidoscope entitled 'Spincycle,' a colorful, geometric, bold pop-art installation that highlights some major seasonal accessories. Spincycles optical sensibility of fun and humor rotates 24 hours a day, 7 days a week. If you stand in front the windows you can almost feel a Lichenstein-esque shower of beach balls, umbrellas, and cabana stripes hurtling towards you all created by spinning Ben-day dots, graphic shapes, Balenciaga bags, Manolo Blahnik shoes, Margiela sneakers and more.


"Images credit : Barneys.com"
BERGDORF GOODMAN Amsterdam-based Finnish artist Kustaa Saksi is renowned for his abstract, dream-like illustrations that have been featured in galleries and museums across the world. The exhibition entitled "Hypnopompic" currently on display at Bergdorf Goodman, is a series of large-scale, wool jacquard weaved tapestries. The textiles are made of mohair and alpaca wool, cotton and synthetic materials, such as phosphate and metallic acrylic thread. Saksi's work calls to mind a melange of antiquated art with a psychedelic folk aesthetic. Abstractions of animals in day-glow color palettes mingle with patterned landscapes. His work is an homage to the tradition of optical art, where patterns and spatial visual variations are both hypnotic and slightly disorienting, capturing Saksi's desired half-dream state with bold conviction. "Blending Art Deco with orientalism, optical art or psychedelia, futurism or folk art feels very natural to me in my visual storytelling," he says.


BLOOMINGDALES Bloomingdale's is throwing an outdoor street fair for all three days (July 13-16) of the inaugural New York Fashion Week: Men's At Skylight Clarkson Square, the home of the event. Their world famous 59 Street store windows are also highlighting NYFW: Mens featuring Menswear Collections in front of NY "concrete jungle" backgrounds. Brick walls, urban graffiti, and classic I <3 NY signage can be seen honoring the city, and home of NY Fashion Week.
---