New York City Department Store Visual Trends
---
The latest visual trends of New York City fashion window displays from September 2015.
MACY'S Lights! Camera! Fashion! This month for New York Fashion Week Macy's Presented Fashion's Front Row bringing the high fashion runway to the mainstream in a dazzling spectacle celebrating the intersection of music and fashion. Macy's Fashion's Front Row supported Broadway Cares/Equity Fights AIDS and the Council of Fashion Designers of America Foundation (CFDA), with 100% of the proceeds from ticket sales. Hitting the runway were spectacular presentations featuring the fall season's hottest designs from Heidi by Heidi Klum Intimates, Hello Kitty, I•N•C International Concepts, Jessica Simpson, Levi's, Ryan Seacrest Distinction, Sean John, Thalía Sodi and Tommy Hilfiger. Amid the glitz and glamour, Fun front man Nate Ruess and Jason Derulo performed.
SAKS FIFTH AVENUE Famous shoe designer Christian Louboutin is bringing his signature touch to the world of lip color. Louboutin is launching a lipstick "Charme" collection featuring 36 shades in three different textures; Sheer Voile, Silky Satin, and Velvet Matte each inspired by the fashion house's most iconic shoes and handbags. Inspired by everything from Babylonian architecture to Middle Eastern antiquities there is a definite architectural vibe. The packaging includes a pointed base, golden exterior and a crown-shaped cap. The most exciting part: each lipstick doubles up as a jewelry charm. Thread through a ribbon it can transform into a necklace for speedy touch-ups or a bold fashion statement. According to Louboutin himself "After the eyes, lips represent the most expressive element of the face. And there's the fetish appeal because lipstick can transform a face from intense, to naïve or even dangerous. A red lip can speak volumes, think of the blood red mouth of Edith Piaf, helping the diva morph into a voice. Sporting lipstick is therefore often a signature for an accomplished woman."

LORD AND TAYLOR Lord and Taylor is "Wild for Fall" this season one can roam free in untamed elements like animal prints, fringe, and especially fur. Explore new terrain in a mix of southwestern prints, blanket ponchos, and rustic new frontier textures. Rich oppulent fabrics, textures and colors that define the late 70s are ready to rule again. Featuring faux suede dresses and coats, dark floral dresses in feminine silhouettes, billowy blouses, cropped trousers, and structured fringe jackets, it's a veritable dream fall wardrobe. The pieces all work together beautifully as a coherent collection, but would also fare perfectly as standalone items incorporated into a wardrobe.

VALENTINO Aside from the lacier side of the Valentino show for Autumn-Winter 2015, there was a range of garments presented with minimal monochrome details and intricate geometric fabrics edged with beads and gold stitching. The beginning of the collection was dominated by eye-catching patterns in geometric monochrome that appeared to be prints, but as Maria Grazia Chiuri explained, these garments were actually made with patchwork techniques. These patchwork processes carried through to garments later in the collection that used black and vivid colours to create intricate patterns on dresses and coats. Trim was a key element of these monochrome garments with piping used to created striking outlines on dresses, skirts and shirts. The piping was used as a contrast with white or black lines tracing the shape of garment details such as cuffs, plackets and collars or helping to define panel lines. From a pattern cutting perspective, an interesting detail was the use of flanges which were created to sit on either side of a central bodice panel. These flanges were cut as the more architectural cousins of the lace flanges that were used in other parts of the collection.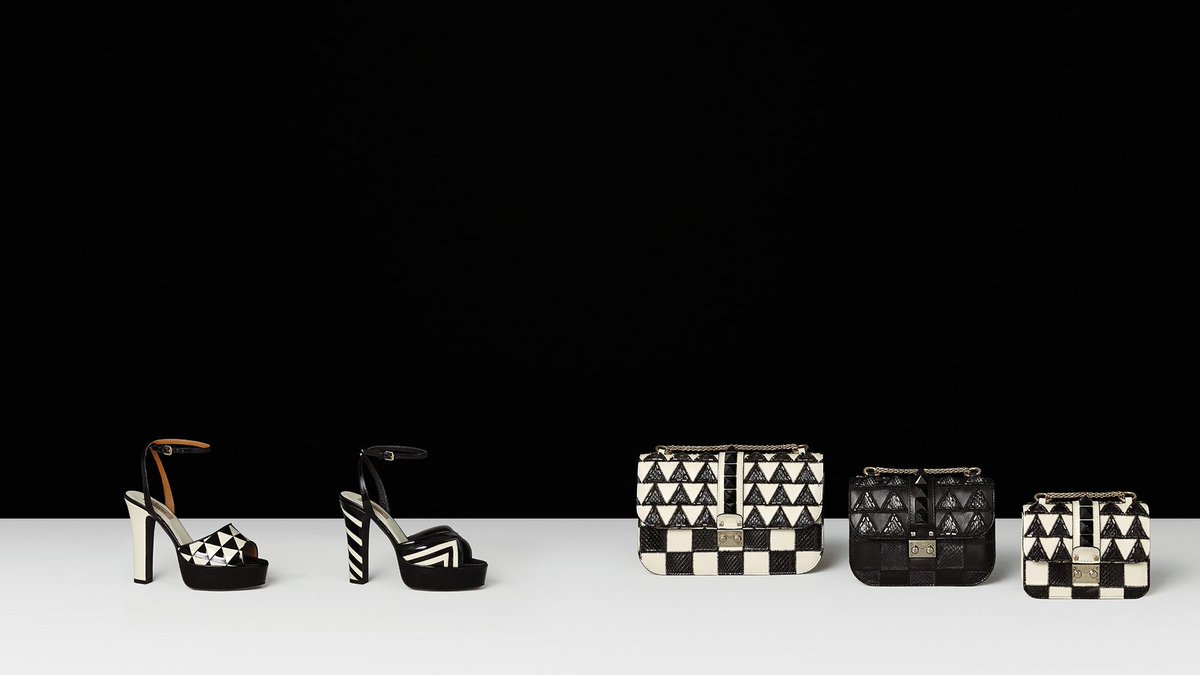 LOUIS VUITTON Creative director Nicolas Ghesquière has looked back in time to the 1970s to create a contemporary woman's wardrobe. This collection is primed to be Ghesquière's most accessible so far. His high-rise jeans from Spring were in heavy rotation this month. Metallic knits and prints paired alongside sleek puffer coats, and the bags were true eye-catchers– with monogrammed holographic glass vanity trunks and voluminous sheepskin and leopard print fur clutches to match the enviable selection of coordinating outerwear.



GUCCI Gucci hones in on Alessandro Michele's Herbarium motif for the new window concept. The new look is showing the Cruise 2016 collection in all of it's leafy splendor. Each window becomes a fully decked scene, with floors and ceilings enfolded in the patterned display, both men's and women's showcase an 'it' chair; for women, a hand-embroidered servant motif and for men a tiger motif. Upholstery and wall coverings are barely distinguishable in this topsy-turvy world, where chairs hang from the walls and optical illusions trick the eye. You might not be able to tell which way is up that's just part of the dizzying effect of Gucci.

COACH Coach has officially branded its runway collection as Coach 1941, while the regular store goods fall under the Coach New York label. It's all an ongoing part of the brand's reinvention. "The collection is really building on the work we've done for the past three New York Fashion Week presentations, in terms of the aesthetic and our point of view," Stuart Vevers, creative director of Coach. Coach 1941 marks its official launched at the brand's runway show at New York Fashion Week. One piece from the collection, a new take on the saddlebag, will be available to shop instantly online and in the brand's SoHo and Rodeo Drive locations. "Coach 1941 will be in our flagship stores and have much more limited distribution that will allow us to speak to the better global specialty retailers with a Coach proposition that is much more fitting with their clientele," Victor Luis, Coach's CEO. "The big opportunity for us is at price points that are above Coach, and yet below pricing — but still the value — of traditional European luxury brands."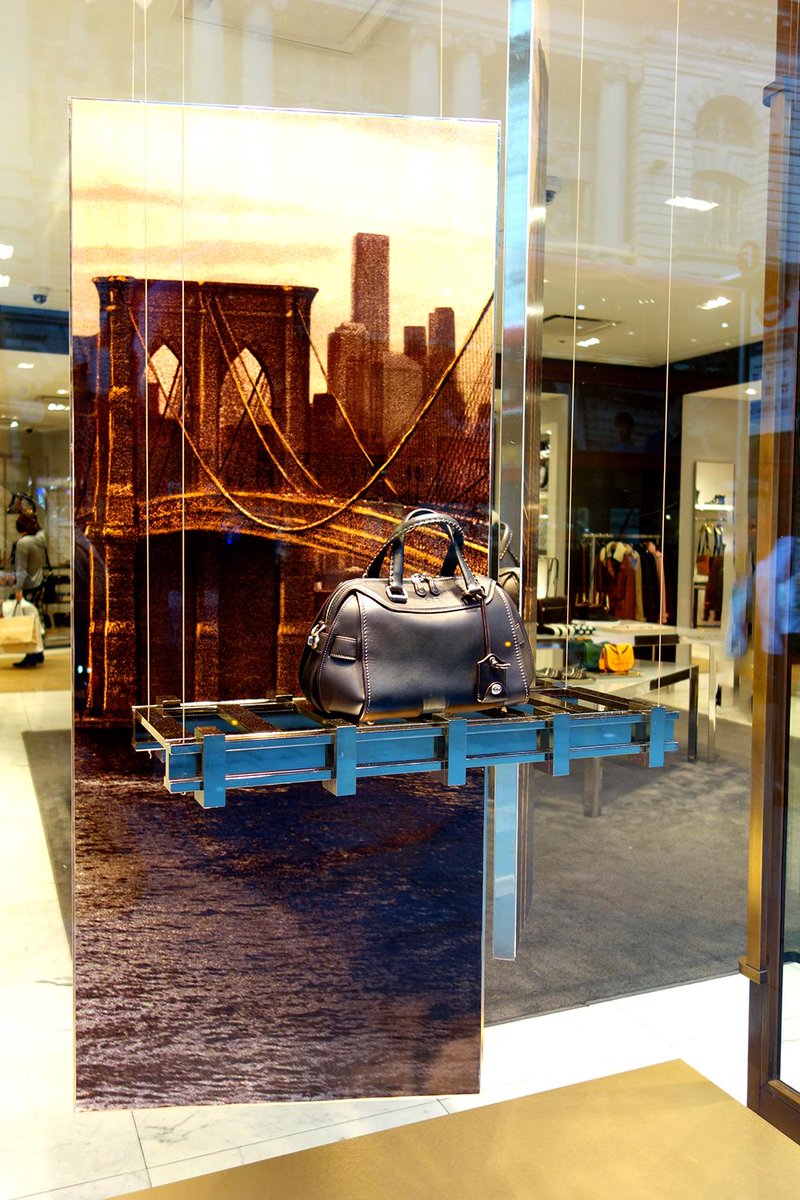 FENDI Silvia Fendi and creative director Karl Lagerfeld has been playing with floral appliqué strapping on a "Strap You" bag — introduced for resort and now given new opportunity for personalization. The straps will be sold separately to "mix and match", she said of the accessories. Furry monsters are out, flowers are in. The bags will also be offered in an alphabetized intrecciato, a traditional method of weaving leather that inspired a fresh take on the monogram. Her eye for an "it" accessory is still acute.



BARNEYS NY Made in New York, Barneys' latest initiative in partnership with the CFDA, showcases New York's ability to produce not only style, but also luxury fashion. Designed by seven select New York designers, including Altuzarra, Narciso Rodriguez, Rag & Bone, R13, Proenza Schouler, The Row, and Thom Browne, and produced entirely by local New York manufacturers, the collection demonstrates the potential of production in the Big Apple. This New York Fashion Week, anyone walking by the store windows at our Madison Avenue flagship or Broadway locations will witness New York's craft, courtesy of the Barneys New York visual team. "New York is the hub for this project and manufacturing is the idea," says Matt Mazzucca, Barneys VP of Windows and Exteriors. "And we're manufacturers, we're fabricators. Our buying team knows all about craft and manufacturing. Barneys has its place in the zeitgeist of New York, present and past, and to be able to create windows to support these talented designers making their clothes in New York factories is a great sentiment. It shows off how there is a highly skilled set of creative talent in New York." 10% of the proceeds from this Made in New York design will benefit the Fashion Manufacturing Initiative (FMI), a program of the CFDA in partnership with the New York City Economic Development Corporation.


"Images credit : Barneys.com"
BERGDORF GOODMAN Famed Singaporean photographer, John Clang has taken over the Bergdorf Goodman window display with his exceptional work in a photography installation entitled "Fear of Losing The Existence" as part of the BG celebration of Sigapore's Golden Jubilee 50th Year Anniversary Celebration. The blurred images of family are both haunting and comforting, according to Clang: "My parents and parents-in-law are getting older and weaker by each passing day.We are separated by thousands of miles and I only get to see them once a year. With each visit, they look different. Their faces change with more wrinkles, their hair has grown thinner, and they have become more fragile – the sure signs of aging. Sometimes when I miss them really badly, I realize I have difficulty picturing their faces accurately in my mind. I'm very afraid that one day I will not be able to remember their faces anymore and we become total strangers."
---