New York City Department Store Visual Trends
---
The latest visual trends of New York City fashion window displays from August 2015.
MACY'S The amazing world of mannequins by Ralph Pucci are stepping out with a retrospective at MacyÂ's Herald Square. MacyÂ's has installed dozens of Pucci mannequins representing different collections over a 30-year period, including some of PucciÂ's most creative collaborations with artists like Kenny Scharf famous for his arty alien like figures, the naive 1920s inspired "Dolly" painted faces of Anna Sui, Maira Kalmans disproportionate creations, the athletic chiseled male forms of Lowell Nesbitt, among others. PucciÂ's retrospective includes a behind-the-scenes video of PucciÂ's studio on 18th Street in Manhattan; blown-up images taken by famed photographer Antoine Bootz, and a remake of the artist David StoreyÂ's art installation from PucciÂ's 2011 mannequin show.
SAKS FIFTH AVENUE Saks fifth Avenue is proud to present the Exclusive unveiling of Alaïa Paris Eau De Parfum, the first ever fragrance from esteemed couturier Azzedine Alaïa. Alaïa Paris is a multifacited scent in every sense of the word much like Mr. Alaïas signature laser-cut leather print that encases the black glass of this beautiful bottle. It's inspirations are many yet they all converge to create a scent that aims to capture the essence of absolute beauty, and delivers.

"Images credit : saksfifthavenue.com"
TIFFANY AND CO. Tiffany and Co. explore the magic and romance of summer in the city featuring iconic NYC locations such as a moonlit Brooklyn Bridge, Coney Island, Central Park, and a bicycle ride for two along the city skyline. The Tiffany CT60 collection is on display; The "CT" are Charles Tiffany's initials; the "60" is a reference to the "60 seconds of pure possibility" a philosophy embodied by the famous phrase "New York Minute." Tiffany clock became a concrete reminder of the concept of the "New York Minute," a phrase evocative of the city's fast-paced energy that is still used today.

RALPH LAUREN The Fall 2015 Collection of Ralph Lauren is redefined by intricate artistry. From sumptuous shearling and silk crochet to rich suede and ultra fine cashmere, the Ralph Lauren collection adds sophistication and allure to the season including romantic renderings from the Collection behind mannequins.

BURBERRY British fashion house Burberry introduces its Fall/Winter 2015 collection with a vintage-inspired campaign that recalls the brandÂ's heritage. Set in London and featuring a cast of young British models, the campaign harkens back to BurberryÂ's classic role as one of the most popular British brands. The mood evoked is reminiscent of The Beatles in the 1960's, a message thatÂ's strong and powerful enforcing the 'be who you want to be' attitude with a subtle revolutionary tinge. This collection highlights Burberrys heritage and positions them to connect with consumers who value timeless products and luxury craftsmanship.

GUCCI Gucci unveiled its newest window designs under creative director Alessandro Michele for his first season for Fall 2015, and true to everything he has shown the industry so far, itÂ's a departure from GucciÂ's old look. The windows feature turquoise and purple LEDs for a 3D element. The floors feature a diamond pattern on an iron sheet and ready-to-wear clothing hangs from an industrial rotating rail resembling the assembly line in a dry cleaners. In another window, a giant bumble bee carries GucciÂ's Dionysus bag in its grasp as it hovers over a bed of flowers. The Dionysus collection gains its name from the Greek god, who according to legend transformed himself into a tiger to carry a nymph across the river Tigris. The striking double tiger-head closure is the bag's defining feature, making a fierce design statement.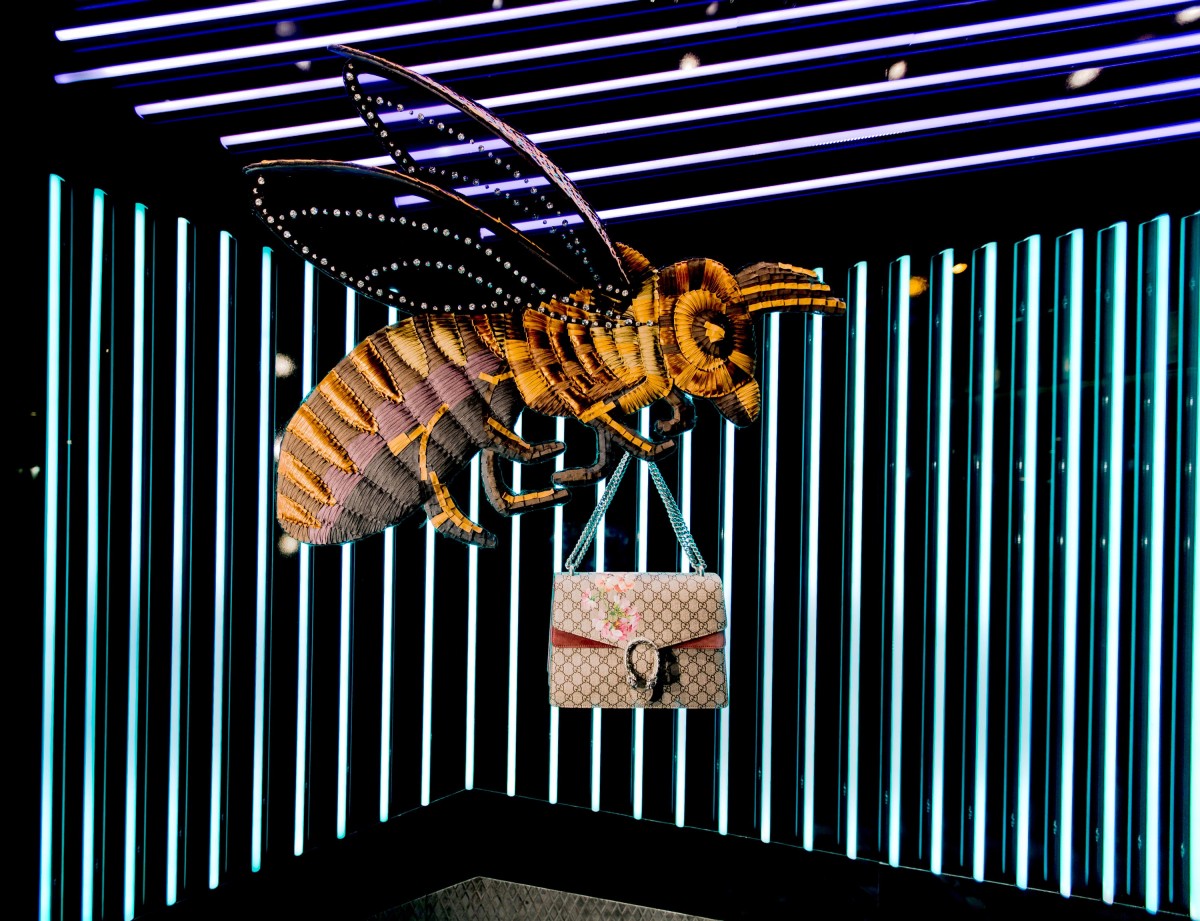 BERLUTI The House of Berluti pays tribute to Surrealism posing the question, Can a corpse be exquisite? In 1925 a handful of surrealists devised a game that entailed creating a drawing or phrase composed by several people, with none of them able to see the contributions of the others. Out of irony, humour, provocation or simply to be surreal, they named this artistic game "Cadavre Exquis". Display windows at all Berluti stores worldwide are having fun exploring this concept. Spanish artist Jorge Lawerta, renowned for his pop illustrations, play the game with Berluti by drawing "halves" of certain figures. Keeping with the exquisite-corpse principle, the other halves of the figures are completed by images of Berluti articles. Thus will be born hodgepodge assemblages, drawn on one side, dressed on the other.

COACH Leather Goods brand Coach introduces its Wild Beast collection. Artist Gary Baseman has created an animal print for the next generation. A modern chic iteration of the classic animal print. This is Baseman's second collaboration with Coach, fashionistas may recognize bags, clothing and accessories adorned with Baseman's signature adorable monsters for Spring 2015. The Wild Beast collection builds on that success, but with a decidedly more autumnal feel, plus pieces designed with men in mind, as well as women.


BARNEYS NY With the simple construction of a turntable paired with a funhouse mirror, the Barneys visual team has created a kaleidoscope entitled 'Spincycle,' a colorful, geometric, bold pop-art installation that highlights some major seasonal accessories. Spincycles optical sensibility of fun and humor rotates 24 hours a day, 7 days a week. If you stand in front the windows you can almost feel a Lichenstein-esque shower of beach balls, umbrellas, and cabana stripes hurtling towards you all created by spinning Ben-day dots, graphic shapes, Balenciaga bags, Manolo Blahnik shoes, Margiela sneakers and more.


"Images credit : Barneys.com"
BERGDORF GOODMAN It's Jurassic chic in this whimsical and prehistoric collaboration between the dream team at Bergdorf Goodman and the reproduction wizards at Bone Clones, inc. Bone Clones, Inc. manufacture, distribute, and sell osteological reproductions of human and animal bones for museums, universities, medical schools, and other educational institutions. While none of the bones are real (all creations are made from a custom blended polyurethane resin) to avoid misrepresentation, all Bone Clones reproductions are stamped with company trademark information. The use of these now extinct prehistoric creations paired with the likes of Prada, Givenchy, Dior, Celine, and Fendi, to name a few are the kind of "history in the making" Bergdorf Goodman has become synonymous with.

"Images credit : BoneClones.com"

BLOOMINGDALES Olive camouflage inspired patchwork freely paired with parachute silks inspired by urban grids and military chic, this "Fall In Line" Bloomingdales campaign marries combat utilitarian workwear with militant aesthetics. The result is a world of contrasts, where glamour is synonymous with utility and age-old techniques are urbane.

---