Macy's 41st Annual Flower Show | The (Not So) Secret Garden
---
Contrary to what your north face coat is telling you, the spirit of spring is alive and in full bloom at the 41st Annual Macy's Flower Show.
The annual celebration of the vernal equinox has transformed the main floor of Macys Herald Square into a pantheon of breathtaking flower beds, lush foliage, iconic sculptures, and new this year a digital interactive garden. This years theme is Art In Bloom which brings to life some of the worlds most iconic pieces of fine art. The eight dazzling garden themes include: Abstract, Pop Art, Impressionism, Art Nouveau, Contemporary, Surrealism, Renaissance, and a Portrait Gallery.

Macy's annual celebration of flower power is the collaboration of over 250 designers and horticulturalists who have worked round the clock for weeks to carefully install over 100,000 plants and flowers that make up the vast landscape viewers get to witness. This time-honored tradition has bloomed into popularity reaching over 15,000 visitors per hour.


Greeting visitors at the Broadway entrance is the Flower Shows centerpiece, a reproduction of Michelangelo's David. The perfectly sculpted statue stands atop his fancifully designed platform. Projected onto David's alabaster form is a series of pixel mapping, moving flower images.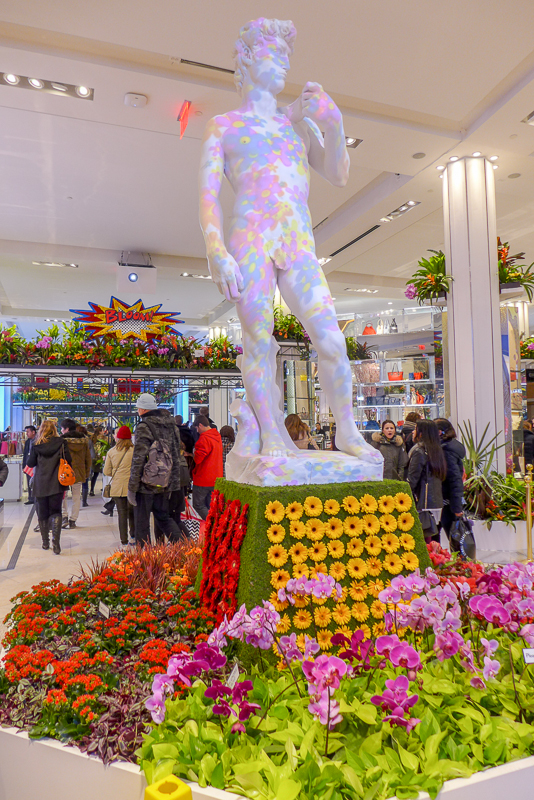 Dutch artist Piet Mondrian's piece: 'Composition II in Red, Blue, and Yellow' has gotten a masterful floral romanticization in the Abstract Garden.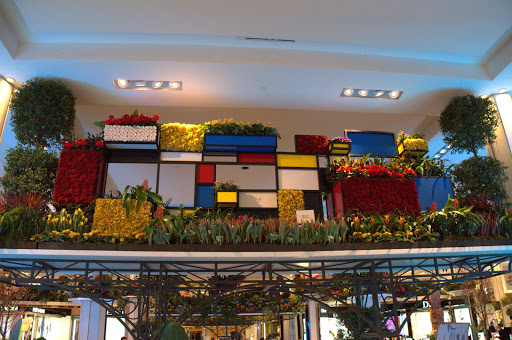 Showcasing elements inspired by the likes of Roy Lichtenstein, the vibrant comic bookesque "lowbrow" Pop Art Garden thrives.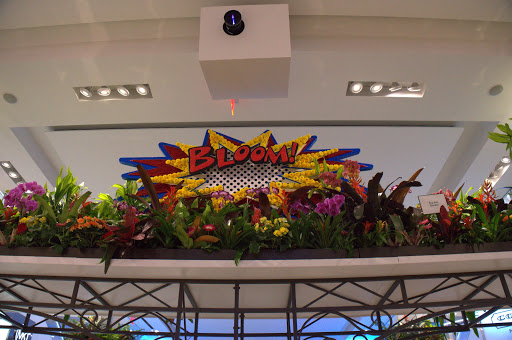 New this year, Macys has teamed up with artistic innovators Moey Inc. to create a visual and aural interactive garden. A cluster of 3D printed "flowers" change color and generate music when stimulated by movement of passersby. This garden engages any visitor within close proximity to make a delightful and unique soundscape that entices the senses.


Spilling out onto the famous Broadway windows the floral fantasy continues in six glorious examples of art movements.

This imaginary renaissance sculptor's studio space is laden with marble busts, chisels, charcoal renderings, and a glass wall overlooking an overgrown oasis which serves as inspiration.


Ballerinas in Pink take center stage gently doing fouette turns in passé reminiscent of works of french impressionist artist Edgar Degas.


Visitors don't have to go to the MET to witness the precision of pointillism, George Seurats iconic A Sunday Afternoon on the island of La Grande Jatte is whimsically recreated using canvas clothing on the mannequins, gently swaying motorized boats, and hydrangeas as far as the eye can see.


Bang! Wow! Pop! Bloom! A vibrant red, yellow, and orange palate coupled with an in your face approach make for a dynamic expressive Pop Art window.


Raining flowers, inexplicably floating umbrellas, handlebar mustaches made of daisies, the surrealist movement which brought us the talents of Rene Magritte is represented in this wonderfully absurd visual feast.


This modern art window offers fresh wild flowers inspiring ideas of nature in a minimalist modern approach. The hologram daises which bloom and close as the viewer walks past the wooden lattice also add depth and dimension.


The 41st Annual Macy's Flower Show is free and open to the public during regular store hours beginning Sunday March 22nd - Saturday April 4th. Bring your camera, sense of wonder, pack your Claritin, and meet us in the garden.
---